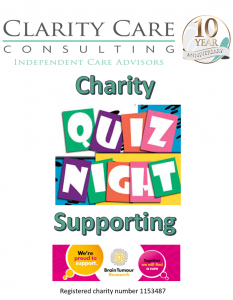 Saturday the 9th February was our first charity event to celebrate our 10 year anniversary.  We held a quiz night in aid of Brain Tumour Research, a charity which we have supported for a while, and raised a brilliant £400 for the charity.
We had great support for the quiz with around 55 guests in attendance and some great donations towards our raffle.
Everyone seemed very happy with their Clarity Care jelly beans on arrival, although there was some disgust at the cinnamon flavoured ones!!  Quizzers got to grips with their first picture round and the first half went well, except for some groans on the Science & Nature round.
The ploughman's platter went down a treat at half time and we had an abundance of French sticks, which doubled up as our consolation prize for the last placed team!
In the second half our quizzers learnt about Mr Chicken (the last private resident of 10 Downing Street) and the secrets of the Clarity Care Team, it seems we have a budding actress, a science teacher and a serial soap opera watcher within our midst!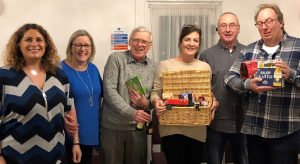 The top three teams were really close, but it was NetSki who won the quiz and scooped up a number of our raffle prizes too!
Thank you to everyone for your support and we look forward to seeing more of you at our future events which include a Race Night at East Meon on 18th May and our Charity Ball at Solent Hotel on 19th October.